Bhagavad Gita 20 days Challenge
Bhagavad Gita 20 days Challenge
Gita Made Easy - Module 1
4 ~ 23 Dec, 8pm
IST
4 ~ 9 Dec'23 
Time: 8-9 pm IST
11 ~ 16 Dec'23 
Time: 8-9 pm IST
18 ~ 23 Dec'23 
Time: 8-9 pm IST
Amarendr Gaura DasMotivator, Spiritual Lifestyle Coach
Amarendr is a Bhakti Yogi, motivator, and spiritual lifestyle coach. He holds a degree in Management from one of India's prestigious management schools and was formally heading a division of an educational firm. Inspired by ancient Vedic texts and their relevance to life, Amarendr has dedicated his life to the teachings of Lord Krishna, with his mission being to propagate the message of the Bhagavad Gita. By scientifically presenting spiritual self-excellence principles to urban youth and coaching them to improve their personal and professional lives, he has transformed the lives of many. Amarendr has been practicing the Yoga of Devotion for the last 18 years. He has also completed the Leadership Education and Development Systems (LEADS) programs, served in Dubai, Abu Dhabi, Sharjah, Ajman, Kuwait, Singapore, and Brunei.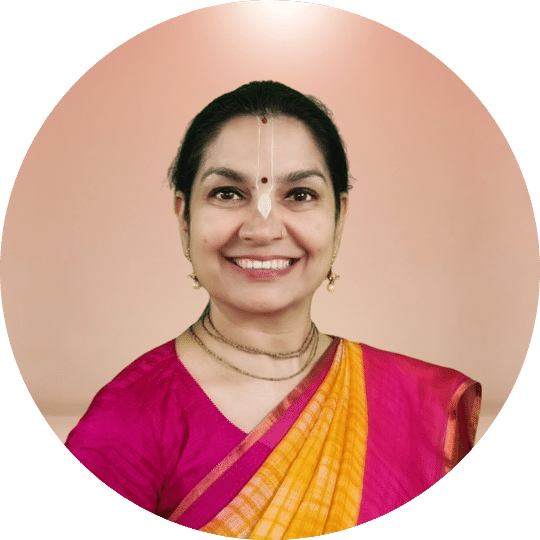 Sukirti Madhavi DDLifestyle Coach, Certified Counselor, Psychologist
Sukirti Madhavi is a self-styled "Lifestyle Architect-she actively helps young individuals build healthy lifestyles through seminars, personal counseling, psychometric testing, and self-assessment exercises. She has also been teaching the Bhagavad Gita and related spiritual literature to people for the past 14 years and has seen phenomenal results in transforming lives. Being a certified psychotherapist, Sukirti Madhavi professionally counseled people from different walks of life inmates in Tihar Jail, drug abusers, teenagers, college students, housewives, and young professionals – for about two decades. Her unique style of combining Vedic wisdom and professional expertise has gotten her great acclaim.
Gita Made Easy - Module 1
4 ~ 23 Dec, 8pm
IST
I joined the DYS programme at ISKCON Chennai after seeing the posters for it which intrigued me. I wanted to know the answers to the questions of life and I was hoping that the course would help me understand. I am glad I made the decision as the course was beyond my expectation. It really kindled my interest a lot and brought about a fresh thinking particularly with regard to who we are and the purpose of our lives. The course was also made very interesting and interactive. Following the DYS course, I was very happy to move on to the Bhagavad Gita classes which was indeed a privilege to be in. Overall I can say that I consider myself lucky to have enrolled myself for the DYS course. I would strongly recommend everyone to attend the course and reap the benefits.
Like most other people, I had also been groping in the dark with many baffling questions not getting answered either fully or to my satisfaction. It was during this phase, that I got an opportunity to attend the DYS program.Though I did not have many great expectations from this program initially, to my surprise, it turned out to be something entirely different and beyond normal expectations. It touched upon most of the questions that were intriguing my mind and provided convincing explanations in an entirely scientific manner. It was an experience that I truly cherished and would recommend everyone to undergo this program at an earliest opportunity to unravel unknown mysteries in life and to help start leading a life with a purpose.
We humans keep finding answers and solutions of so many questions and problems throughout our life, but ignore to find the answer of very fundamental questions: 'Who am I?', 'Why I am doing this?', 'What is my goal?'. I think by answering these basic questions we can find better answers to life's all complex questions. Therefore, I attended the course 'Discover Yourself', not once, but twice! Believe me, this course will answer all your 'most un-answered' questions scientifically, spiritually as well as systematically. This course gives a crystal clear vision that one can by default make right choices, transform bad habits, find balance and lead purposeful life. I strongly recommend all classes of people to attend this course at least once in a lifetime to make it truly meaningful and happy.
All Hindu devotees must attend the DYS class conducted by ISKCON. It teaches us who we are, relationship with God, the purpose of life and how to lead it happily with complete fulfilment. It has changed me significantly to be a better person and taught me how to handle pressures of life. We understand Hinduism better and removes many misconceptions. I was very fortunate to have Amarendra Prabhuji as my guru who patiently enlightened me. I strongly urge all to attend this class.
Attending DYS program has changed my life a lot. It has given me a lot of positive vibes and has taught me how to handle tough situations.
Frequently Asked Questions