Discover Yourself
Thematic study of Bhagavad Gita in 6 days
Hurry up, limited seats available
Six sessions to answer your questions
My mind and heart have become cool and serene, feel total calmness in me!
This course was a great turning point!
I could understand little by little which gave me confidence to move further. Thank you for building confidence in me to study such great scriptures.
Realised spirituality can be followed in married life too!
Your teachings are life-changing...I've found peace, confidence and strength!
With you many of us grew in the right direction 👍So Congratulations to one and all associated 🌹 knowledge 🌹
Beginning with Gita Made Easy and slowly but gradually I progressed to Bhakti Yoga and then Gita Mastery course.!
You both made me understand the text and application in an absolutely amazing way that I am now changed to a much matured and patient person
Thank you very much for installing a seed of devotion in me and introducing me to Supreme Lord Shree Krishna.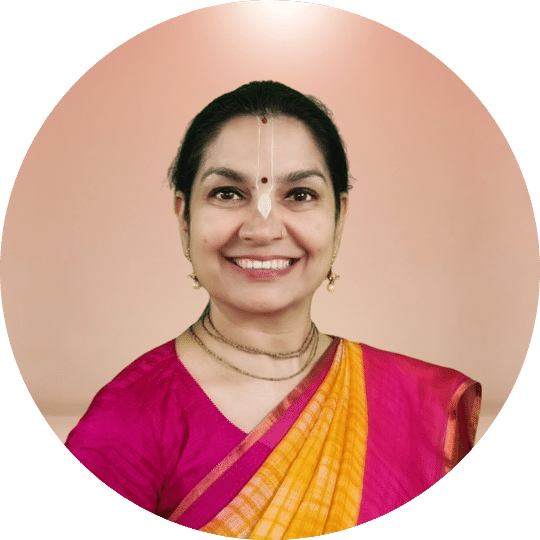 Sukirti Madhavi DDLifestyle Coach, Certified Counselor, Psychologist
Sukirti Madhavi is a self-styled "Lifestyle Architect-she actively helps young individuals build healthy lifestyles through seminars, personal counseling, psychometric testing, and self-assessment exercises. She has also been teaching the Bhagavad Gita and related spiritual literature to people for the past 14 years and has seen phenomenal results in transforming lives. Being a certified psychotherapist, Sukirti Madhavi professionally counseled people from different walks of life inmates in Tihar Jail, drug abusers, teenagers, college students, housewives, and young professionals – for about two decades. Her unique style of combining Vedic wisdom and professional expertise has gotten her great acclaim.
Amarendr Gaura DasMotivator, Spiritual Lifestyle Coach
Amarendr is a Bhakti Yogi, motivator, and spiritual lifestyle coach. He holds a degree in Management from one of India's prestigious management schools and was formally heading a division of an educational firm. Inspired by ancient Vedic texts and their relevance to life, Amerendr has dedicated his life to the teachings of Lord Krishna, with his mission being to propagate the message of the Bhagavad Gita. By scientifically presenting spiritual self-excellence principles to urban youth and coaching them to improve their personal and professional lives, he has transformed the lives of many. Amarendr has been practicing the Yoga of Devotion for the last 18 years. He has also completed the Leadership Education and Development Systems (LEADS) programs, served in Dubai, Abu Dhabi, Sharjah, Ajman, Kuwait, Singapore, and Brunei.
Frequently Asked Questions